Your style is iconic and very distinctive – and seems very much part of your character. How would you characterise your style?
Everyone gives off different vibes. I love bold makeup, colour, colour, colour and print! I never go out without make-up and adore big jewellery such as my huge Andrew Logan brooches.
Have you always felt so confident in your own style?
Confidence only comes from doing, be brave enough to try and experiment. If you do something with enough panache it always works.
We're constantly inspired by London's creative energy. What is British style to you?
The British are brave enough to try. Punk started in the streets with young kids experimenting, not thinking whether they should or shouldn't.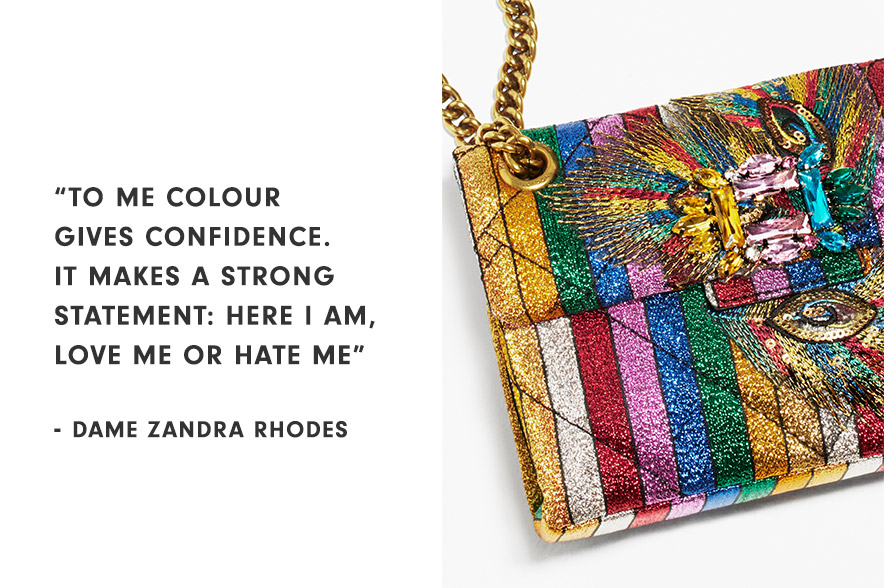 You've designed for everyone from Princess Diana to Freddie Mercury during your career; of everyone who has worn your designs, who is the most expressive with their style?
Freddie Mercury in his pleated top used my flowing pleated shape to its utmost advantage. This is the top that has been re-created for the new film. Jackie Kennedy and Lauren Bacall looked exquisite in my classic one shoulder dresses.
Vibrant colours have long been your calling card, so the Kurt Geiger Princely flats seemed made for you. What is it that draws you to colour and print?
To me colour gives confidence. It makes a strong statement: here I am, love me or hate me. Print is an amazing way of decorating a plain fabric. I am a designer who chose to create my art onto fabric – the fabric is the message!

Where would you wear the shoes and bag from the campaign?
My Kurt Geiger shoes and bag could be worn anywhere! They have that wonderful flexibility of being able to be accent on the casual but I could equally wear them with one of my pink silk chiffon evening dresses.
What are the perks of being a dame?
It's an acknowledgement of the value of my work and its value as a British product exported worldwide. Sometimes I think it makes me appear to be even older than I am!
Some of your early designs were considered too outrageous by traditional manufacturers. How do you think fashion and style has changed since you started your career?
As a designer I must be true and follow what my artistic self tells me to do. When I drew the lipsticks and rainbow men figures first in 1965 I did the design because I loved these motifs and they had not been used in that way before. Now they are accepted and I have brought them back in my current products!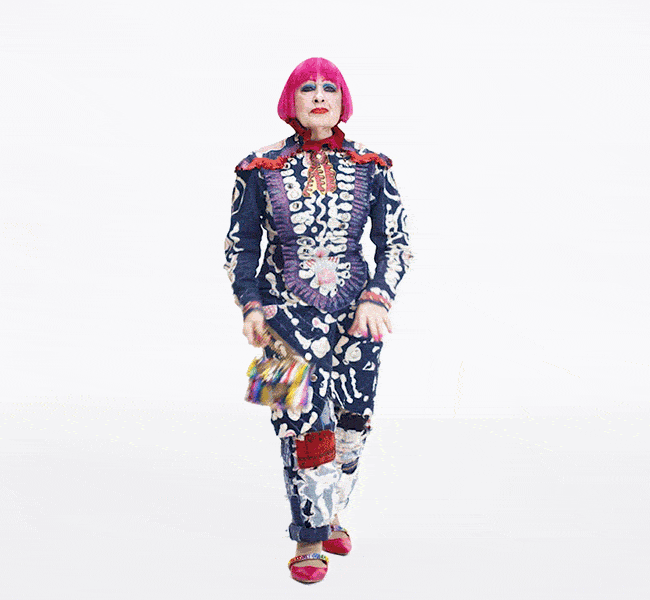 If you could re-live one moment from your career, what would it be?
Standing up to take a bow in the audience of the Carnegie Hall NY where Shirley Bassey preformed her solo show in one of my dresses.
What advice would you give to someone struggling to define their signature style?
Don't give up. Try and be honest to yourself and put on paper what your heart tells you to do and keep doing it. Promote it; believe in yourself, as long as you believe it will eventually happen. Never worry about making a mistake.
SHOP AW18 NEW ARRIVALS