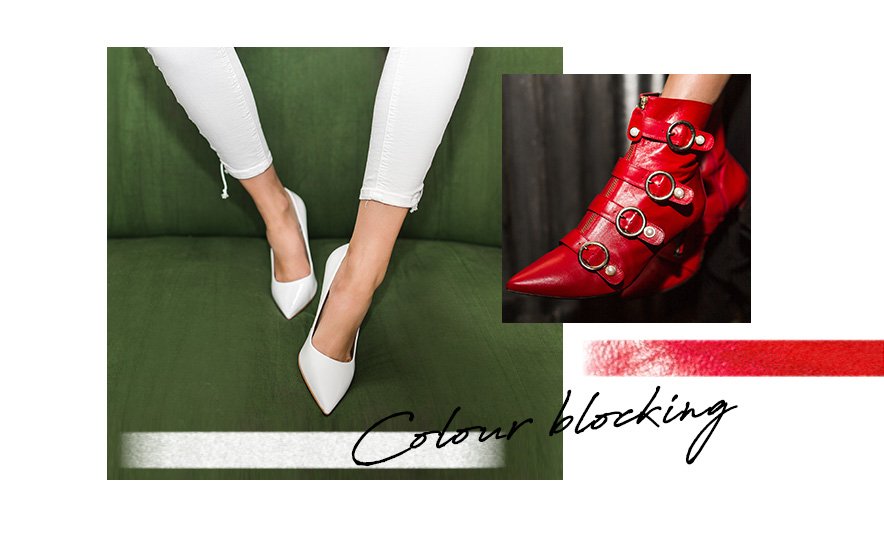 The trend set to really stir things up next season is a fierce dose of colour-block. Shades of red and blue, particularly of the pillar-box and electric variety respectively, are the main proprietors bound to make an appearance in your wardrobe at some point during the course of AW17. Here, we're going to introduce you to the very best of all things bright and bold here at Kurt Geiger, in preparation for a very colourful season indeed.


It's no secret that red is on course for style domination this winter. Once a steely eyed Gigi Hadid had taken to the Max Mara runway in Milan in February clad head-to-toe in the colour, there was no question that we'd all be resembling lobsters in six months' time. There is something slightly daunting about red in general. It's all a bit grandiose. Think of all the great 'red' moments in fashion history. Julia Roberts, post-transformation, cackling at the sight of a dazzling set of diamonds in Pretty Woman. Princess Diana sparkling in bespoke Bruce Oldfield, or, more recently, Rihanna stealing the show at the Valerian premiere in hot-off-the-runway Giambattista Valli couture. But what about us mere mortals? How do we incorporate the fiery hue into our everyday wardrobes?

Answer: it's all in the accessories.

And a red ankle boot is an excellent place to start. We've got two hot favourites to kick things off. Carvela's 'Sparky' style is an eighties-inspired masterpiece. Ideal for anyone looking to channel a Dynasty Diva this autumn. Simply pair with black skinny jeans and an oversized blazer (XXL shoulder pads preferable). Kurt Geiger London's 'Damsel' boots are a more subtle, deep rouge and boast the on-trend slip on detail favoured by bright young things of the moment. A classic tomato red court shoe never goes a miss either. Whether you want to add a striking finish to an all-black look or simply can't resist a chic 'Dorothy' moment, find your soul mate in the 'Sadie' and 'Alice' courts. The former, a minimalist classic for optimum power-woman moments and the latter something truly sexy, armed with delicate red netting. We love us a little bit of ankle candy!

When it comes to blue, the rule for AW17 is: go hard or go home. And, while we're at it, we may as well kick things off with the boldest of the lot. Enter the Vita over-the-knee boots. These were given a little story-time in our AW17 Preview, but we just can't get enough of these leading ladies. To be worn all throughout party season and beyond, we're wearing ours with athleisure-style jersey mini dresses for urban-cool and sharp tailored jackets for something a bit more sophisticated. A Kurt Geiger essential for all. On the bag front, a couple of our best-selling beauties have been given a bold, blue makeover. First and foremost, the 'Kensington', which can now be purchased in printed blue, complete with chic, striped ribbon and compulsory gold chain. And you can't go wrong with the 'Violet' tote either. The metallic blue hue is perhaps our favourite shade for the bag that is literally never full, and has come to our rescue more times than we'd care to admit. Don't miss our ombre 'Alice' courts either. The best-selling stiletto is now available in one of next season's hottest shades and will take you from boardroom to dancefloor in no time.



If you're keen to get your man in on the trend, he'll be working colour-block via a great pair of sneakers this season. Check out the 'Lamont' and 'Charlie' styles for ready-made colour-blocked kicks. Perfect for his new off-duty wardrobe.

So there you have it. Everything you need to know about how to sport the coolest colours via bold accessories for next season. Now excuse us while we slip into our electric blue thigh highs…
Shop New Arrivals